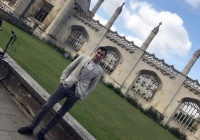 Study Pro Consult played an important role in my Academic experience and Opportunities I have had over the last 4 years.
First, meeting Sardoraka, founder of the agency enabled me to explore a wide range of study opportunities abroad. Initially, he built a strong and friendly rapport with me and listened to my career goals carefully. Accordingly, he provided a clear guidance as to which countries, Universities and courses that I could consider. This allowed me to make a great choice of studying A-levels at Ealing, Hammersmith and West London College which is one of the top Colleges throughout the UK. Moreover, although, the documentation and application processes are usually known to be time-consuming and sometimes even frustrating, with Study Pro Consult, I didn't even have to worry about any one those issues. They handled all these tasks promptly and efficiently. This really enabled me to just focus on my travel and study plans without any of those pains. The service and care of the agency didn't really stop then. Sardoraka, really made sure I was getting on well with my student life by engaging with me through phone calls and emails. He provided assurance on my decisions and progress and motivated me to meet move forward. In fact, we still keep in touch with Sardoraka and have friendly chats about my life here abroad.
I would definitely recommend to get in touch with Study Pro Consult to those wishing to study abroad and thereby embrace great opportunities along.
Khusan
Khusan Raymjonov «
Current Study: BPP University, Business School;
BSc Business Management with Finance;
Previous Education: Ealing Hammersmith and West London School;
Courses:
1. A-levels: Math, Finance and Psychology
2. HNC Business Management